Do you love to make trailers, but don't have the time for the full length film? Well you've come to the right place!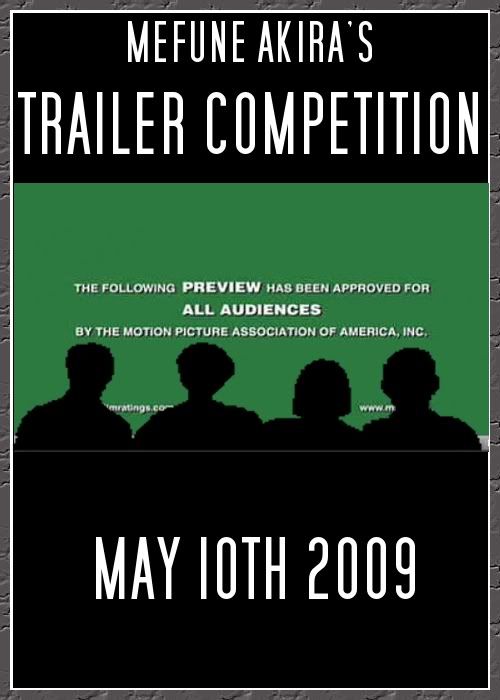 A catch? Hell ya, there's always a catch. Would it be fun without em?

Here are the rules:

#1 All movie trailer submissions must contain all of the following quotes:

* "That's no chicken, that's my wife!'
* "Screw me sideways, that was close"
* "I love you and I don't care who knows it"
* "Im sorry sir, he's dead"
* "Don't talk mother f***er, just run!!"

*Even though some or all of the quotes may not work with your idea for a trailer, there are ways to work it in,
such as whats on TV or crowd chatter. Just make sure I can hear it clearly!

#2 All submissions are due by May 10th, 2009 11:59pm PST.

#3 You may submit as many trailers as you like, but only one of yours may be in the finals.

#4 You must have permission from the TMU member if you use their name in your trailers.

#5 MovieStorm, iclone and The Movie Game are all welcome.

#6 All submission must be specifically made for this competition and include
"Created for Mefune Akira's Trailer Competition" at the end of the trailer.

#7 All submission must be under 5 minutes. Yes, you can make a 10 second trailer if you like.

#8 All contestants must have fun doing this or they can bugger off.

#9 Failure to comply with rule #10 will result in disqualification!

#10 What are you looking at?



On May 10th, the competition will end and I will chose 10 finalists.

On May 15th, I will announce the 10 finalists, they will enter the final stage of the competition
and be voted on by their TMU member peers.

On May 20th, I will announce the winner and prizes.

For more information, see the official competition announcement.
Posted by

TMUnderground
at 4:07 PM