The long-anticipated production Saving Grace by Sisch has been released. She shares:

"Saving Grace is my first big Moviestorm project. From the start the idea of mixing footage from different sources appealed to me, and as I wanted some spectacular space views, I contacted Egosoft and was kindly allowed to use material shot in "X³ Terran Conflict" for a non-commercial project.

I also wanted to implement "The Movies" – TM is where my machinima roots are, and though I doubt I will ever go back to filming a whole movie in it, I still think it has features that look great and combine nicely with Moviestorm.




The idea for the story of "Saving Grace" was born while thinking about distance – I wanted to submit a film for Del's Distance Competition, and this is what I came up with!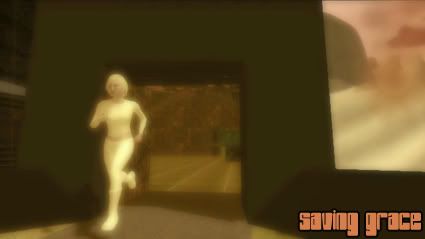 Special thanks go to Norrie, who as always listened to my ramblings while working on the story, inspired me when I was stuck, and finally proof-read it.

Another thank-you goes to my fantastic voice actors – both AnotherNewDawn and Goofparade brought their roles wonderfully to life – I'm a big fan of both their work, and always very proud and happy to have them star in my films!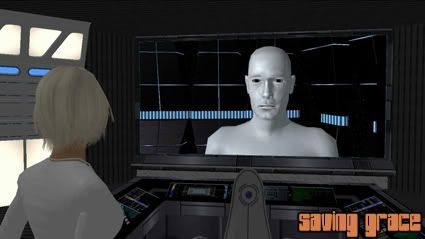 Killian, who listened to my rants about Magix and offered valuable tips about render quality, and how to improve workflow (because working with such a lot of footage – nearly 1GB! put quite a strain on both my computer and Magix) has my special thanks, too, as has Overman, who, in his critique for Dark Obsession, gave me wonderful tips on how to improve sound.

Last but not least – thank you, Ken, for TMUnderground, the online home of us all, and the place to find a large group of like-minded people!

I hope you'll enjoy the movie – one of my initial goals was to make a movie of under 15 min, but alas, that was not to be – apparently my stories always take longer to tell…"


In honor of this sci-fi release, the movies highlighted on TMU's homepage are all sci-fi productions:

The Truth of Mars: Speck in the Eye of God by bongoman
Conquest Opening by Tinman
Star Trek: A Homo Sapien in Uranus by animatechnica
Odyssey Season One Promotional Reel by Killian
Capitol Origin by Alex Bradley
Enigma II Ep 7: Coup De Tate by Uber
Galaxy at War: The Super Weapon by Chris62
Agent X3: Confrontation by simpsdog
EDS Destiny S2 EP1 by CaptainStrider
Stowaways S01E01: No Turning Back by VectisEthaniel
Instinct by Throwaxe
Foreigner by Tarison

To view any of these, click here.
Posted by

TMUnderground
at 9:19 AM